I was recently challenged to take the Scotch-Brite Bathroom Challenge:
As most moms can attest, the bathroom is one of the most dreaded areas to clean because of the tough dirt, tricky shaped areas and the heavy physical scrubbing it requires. 3M invites you to take the Scotch-Brite Bathroom Challenge to prove that with the new Scotch-Brite Bathroom Solutions, you'll finally have the right tools for the job. 
 As part of the Bathroom Challenge, we encourage you to put our new, unique bathroom solution products to the test:
Count the nooks and crannies, edges and corners in your bathroom – have the new products made it easier to get to and clean those hard-to-reach areas?
Try cleaning the bathroom using your old methods versus using the new product solutions – what is the noticeable difference? 
Finally, measure the success – is your bathroom cleaner, did you save time? 
 New Scotch-Brite Bathroom Solutions products will make it easy to do the deep-cleaning year-round; from a grout cleaner to tile scrubbers to a nook and cranny sponge, Scotch-Brite has customized designs so you don't waste time on a one-shape-fits-all cleaning tool that won't get the job done. These tools offer reusable solutions for every bathroom cleaning situation. 
I was sent:
Scotch-Brite™ Nook & Cranny Scrubber is specially designed with the bathroom in mind. The non-scratch scrubber removes build up from fixtures, faucets & other hard to reach surfaces. The tools hook shaped tips can be use on end & it's curves hug the surfaces of your faucets and sink. It is the perfect way to clean your shower track door!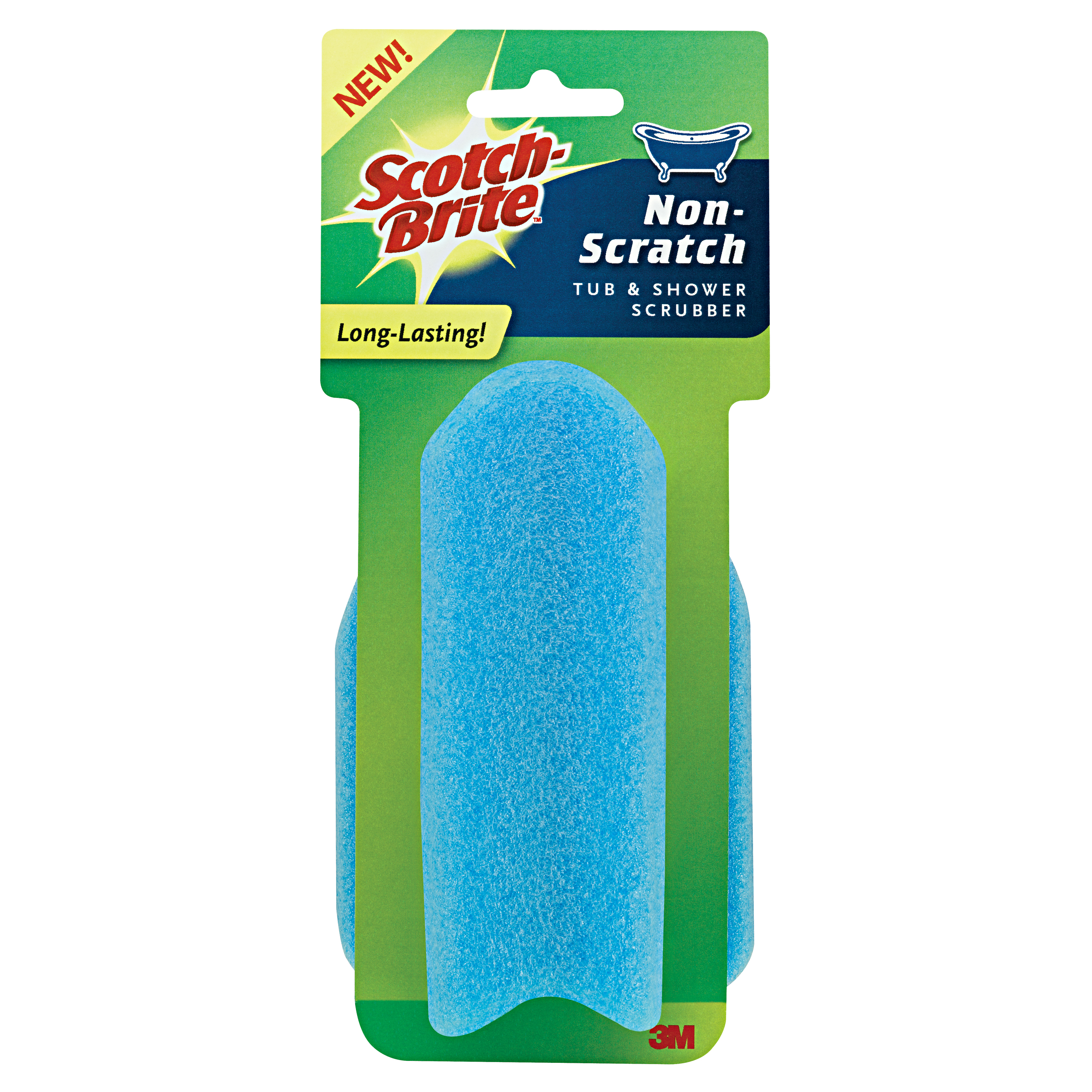 Scotch-Brite™ Tub Scrubber is specially designed with the bathroom in mind. The unique tool design allows it to conform to the curves of your tub! The non-scratch scrubber removes build-up without scratching and the comfortable, lightweight & water-resistant handle makes cleaning your tub a breeze!
Scotch-Brite, Bath & Shower Scrubber, Removes Soap Scum On Tile, Glass & A Variety Of Other Bathroom Surfaces, Features Scotch-Brite Blue No-scratch Scrubber, Sturdy, Extendable Handle Cleans Hard-To-Reach Places, Refillable With No-Scratch Cleaning Head
Scotch-Brite™ Angled Scrubber is specially designed with the bathroom in mind. Its special angles reach where other scrubbers can't! The non-scratch scrubbing side removes soap scum and other build up that bristles often miss! It's great for the entire bathroom.
Scotch-Brite™ Grout Scrubber is specially designed with the bathroom in mind. It effectively cleans dirt & grime from the grout line. With this tool you can count on long lasting non-scratch scrubbing that will thoroughly clean the grout lines in your shower, bath, floor and more!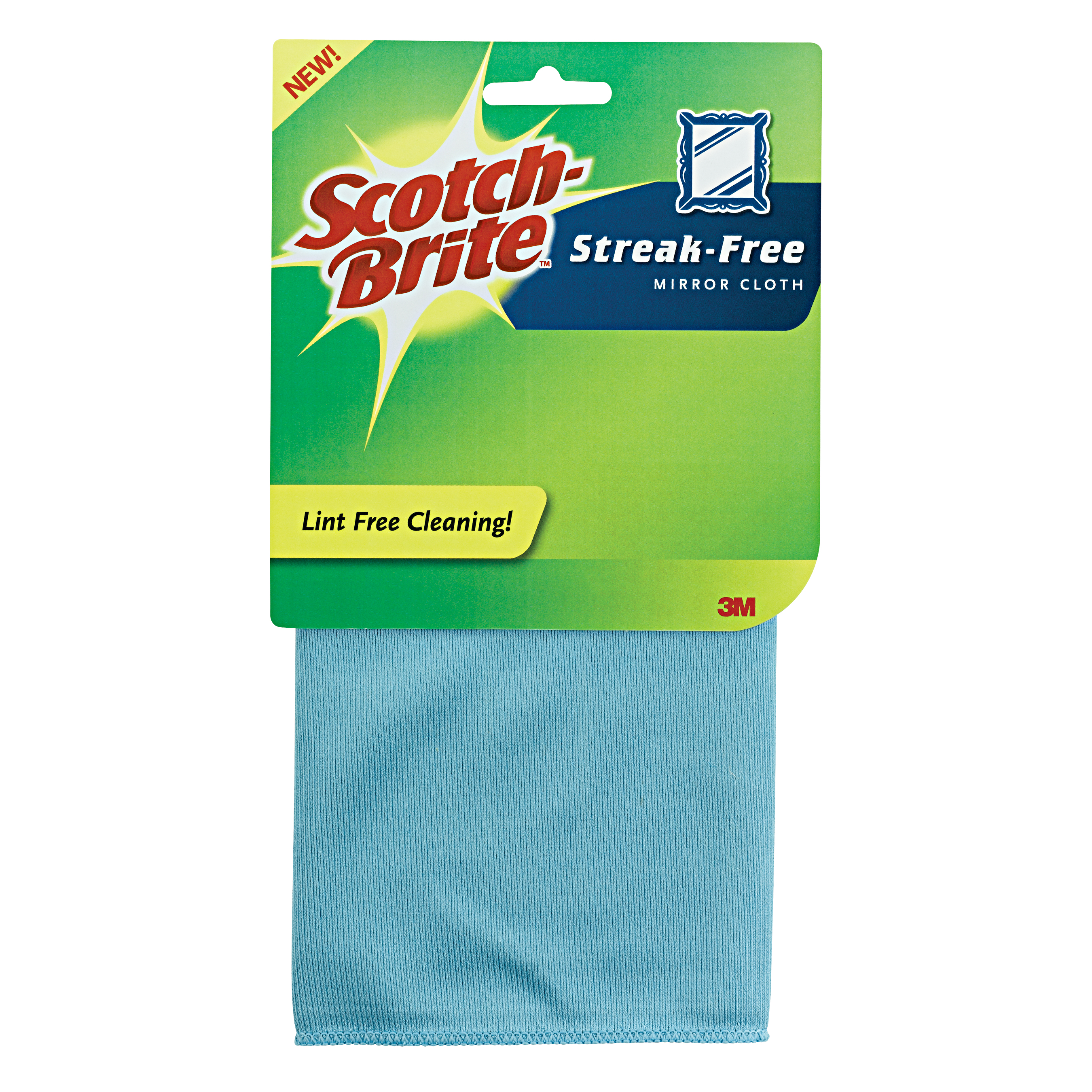 Scotch-Brite™ Glass Cleaning Cloth is the perfect way to make your glass surface, mirror and faucets streak free! The lint free cloth removes dust, dirt, and finger smudges in seconds. Use with or without you favorite glass cleaner.
Scotch-Brite™ Reusable Counter Cloth is specially Designed with the bathroom in mind. It's the best way to pick up hair, makeup. and toothpaste because it absorbs like a sponge, cleans like a cloth. In fact this reusable and machine washable cloth is so strong and durable it can outlast 10 rolls of paper towels!
My take:  Overall I was very impressed by the products.  My absolute favorites (by that I mean I will be buying again and again) were the Reusable Counter Cloth, Streak-Free Mirror Cloth and the Nook and Cranny Scrubber.  I have never found a product that effectively picks up my stray long hairs while cleaning the bathroom but the Reusable Counter Cloth definitely does the job.  The Streak-Free Mirror Cloth is great because it can be used with or without glass cleaner and again effectively cleans the mirrors.  The Nook and Cranny Scrubber is that little piece of cleaning that I have been missing my whole life….you know the grubby grime that is found around your bathroom fixtures that you can never reach?  The Nook and Cranny Scrubber removes all the yucky grime. 
My least favorite products:  the Non-Scratch Shower Scrubber- while the handle was great for saving my back I felt like I just couldn't get a deep scrub going.  I also wish the Non-Scratch Tub Scrubber had a more durable holder- I lost my grip while cleaning several times.  All in all I was impressed by the products and I am glad I took the challenge because I found some great products I will be using in my weekly cleaning of my bathrooms.
************************************************************
Disclaimer:
I was not paid in any form of cash for this posting.
I did receive product or services to keep for my testing purposes
Some information may have been used from the sponsors website, PR, or other provided material.
(Giveaways- Odds of winning depend on the number of entries vs prizes. No purchase is ever needed or endorsed for an entry)
The views and opinions expressed in this blog are purely my own and any product claim, statistic, quote or other representation about a product or service should be verified by the above mentioned store, PR,or product designer. This post is not endorsed, sponsored or has any connection to twitter, facebook or any other network. This post is solely the property of Mommy PR and/or its above sponsor.